Course details
November Limited ☆ Kamifurano Produce Pig & Taeko Family Raw Shrimp Shabu-shabu 100 minutes Eat All-you-can-drink 460 yen → 3880 yen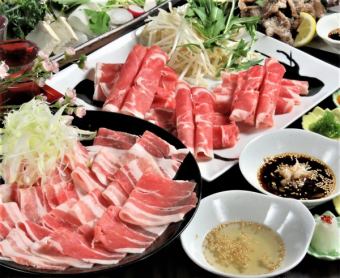 By using a coupon3880 yen
It will be 4,200 yen from December 1st.
All-you-can-drink available

100 minutes drunk unlimited / LO 20 minutes ago
Available days for reservation

Monday - Sunday - Public holidays - Holidays
Luxury stock of Kamifurano's "farming pig (Jiyou tan)" features a sweet taste and soft aftertaste! Lamb Shabu cuts live rum made from Hokkaido luxuriously! Juicy meat irritating for lamb love It is a great course with all you can drink as much as you want!
Course menu
◆ Shabu Shabu
Farming pigs (Jiyoungun / Kamifurano)
Hokkaido-produced lamb
◆ vegetables
Onegi · Tofu · Chinese cabbage · Mizuki · Radish · Eruimi · Enoki · Shiitake · Mozzarella Cheese · Sliced ​​Mochi
Ö ö
Elephant · Japanese noodles · Udon · Ramen
◆ white rice, free of condiments
All-you-can-drink menu
·beer
· Wheat and hops / chandigafu / panache / ice beer
·Highball
· High Bowl / Lemon High Ball / Lime High Bowl / Sequercer High Ball / Ginger High Ball / Yuzu Hi-Ball / Whiskey (Rock · Water Split · Soda)
· Fruit wine (rock · water split · soda)
· Plum wine (white · black · red) / yuzu
· Shochu
· Rock / water split / oolong split / green tea split / lemon sour / lime sour / shower waller sour / grapefruit sour / yuzu sour
·wine
· White wine / operator / wine · tonic / red wine / carimoco
·Cocktail
· Cunyan / Peach Orange / Peach Ginger / Peach Grapefruit / Fuzzy Navel / Cassis Oolong / Cassis Grapefruit / Cassis Orange / Cassis Ginger / Rum Coke / Rum Ginger
·Cocktail
· Oolong tea / green tea / coca · cola / ginger ale / orange juice / grapefruit juice
· + 200 yen
· Sapporo Classic / Potato shochu / wheat distilled spirit
· + 400 yen
· Sapporo Classic / Satsuma island beauty (potato) / Satsuma Baoshan (potato) / Hachihamaama (wheat) / Black Yokaichi (wheat) / Takeshi Takeshi north / North wins of North / Nishikige / Fukushi / Kirooshi onigiri
2018/11/17 update